CONGRATULATIONS TEAM CANADA!
Day 2 in Incheon at the Kendo World Championships saw a tremendous team effort from the women of Team Canada. Congratulations for a 3rd Place finish in the Women's Team Competition!
Hanaca Yamada CAN1
Akiko Fukushima CAN2
Man-San Man CAN3
Bree Yang CAN4
Kyrene Kim CAN5
Sun-Min Kim CAN6
Kianna Darbyshire CAN7
Francesca Ho CAN8
Team Canada won their preliminary heat against Hong Kong and China, taking them into the tournament round. In the first round, Team Canada beat out Team Turkey, moving them onto the quarter-finals. Team USA beat Taipei, triggering a match-up between long-time rivals, USA and Canada.
This was not the first time that the two teams had faced each other, and a change-up of the order by Coach, Dean Masahiro Ara, proved to be a success.
With both teams playing tight conservative matches throughout the team line-up. Hanaca Yamada CAN1 pulled off a hiki-do late into her fukusho match, bringing the match-up to a tie. With Kyrene Kim CAN4 holding off the captain of the US for a tie, the end result was a 1-1 tie after regulation play. The tie-breaker match would be a sudden-death one point match (daihyou-sen).
Representing Team USA was Ester Kim. Canada rallied around Man-San Ma CAN3, who had shown a strong performance throughout the day. With the focus of the arena upon them, the two athletes exchanged calculated strikes.
Breaking off with a hikiwaza by Ma, the two players held their ground before Ma exploded for a tobikomi men, with Ester attempting an ai-men.
Ma's men was awarded by all three judges, clinching a match with Japan in the semi-finals.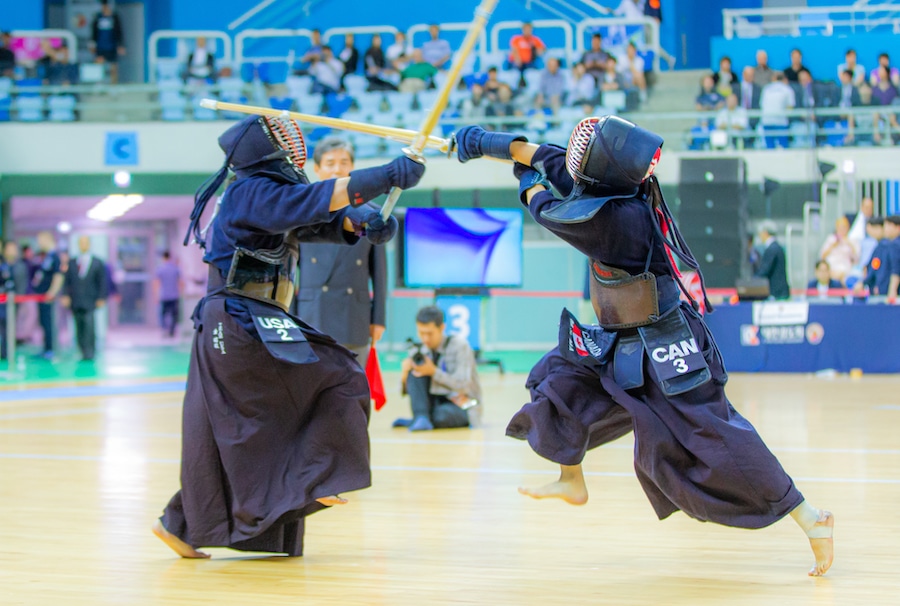 The crowd in Namdong stadium burst into applause. The large Canadian supporters could be heard throughout the arena.
Team Canada would be guaranteed a bronze medal as they moved onto face Japan.
Bree Why CAN4 showed fight and maturity with a tie against Moeko Takahashi JAP5. All players showed poise and determination as they fought against the eventual champions of the tournament, Team Japan. Regardless of a 4-0 loss to Japan, Team Canada's journey ended on a high note with a 3rd place finish for Canada.
This win ended a 12-year medal drought for Canada since the 2006 World Kendo Championships.
We look forward to cheering on the Men's Team Canada today. Go Team Canada!
Footage can be found below:
Canada vs US
https://youtu.be/3bZ5bWpRlN0?t=9h12s
Canada vs Japan
https://youtu.be/qQlyZooRIeQ?t=9h40m