On Saturday, July 25, 2020 at 11:30 EDT (08:30PDT), the CKF opened the first-ever virtual national Kendo seminar. The Kendo Canada National Seminar was a coast-to-coast event, bringing the kendo community together for two days of instruction. 275 CKF members and 65 international attendees were registered for the event.
CKF President, Christian D'Orangeville Sensei opened the event with an inspirational speech addressing the challenges of the COVID-19 pandemic and the resilience of kendo-ka during these times.
Day 1 of the event started with Basics of Kendo with Taro Ariga Sensei, Kendo 7 Dan Kyoshi; then a Q&A for Higher Ranked Practitioners with Motoki Asaoka Sensei, Kendo 7 Dan Kyoshi; Introduction to Iaido with Stephen Cruise Sensei, Iaido 7 Dan Kyoshi; Kendo for Kids with Kyle Lee Sensei, Kendo 6 Dan; Girls & Women in Kendo with Makiko Ara Sensei, Kendo 6 Dan Renshi; and finally Kendo Training at Home with Shigemitsu Kamata Sensei, Kendo 7 Dan Kyoshi. The action-packed day provided invaluable instruction and motivation for kenshi of all ages.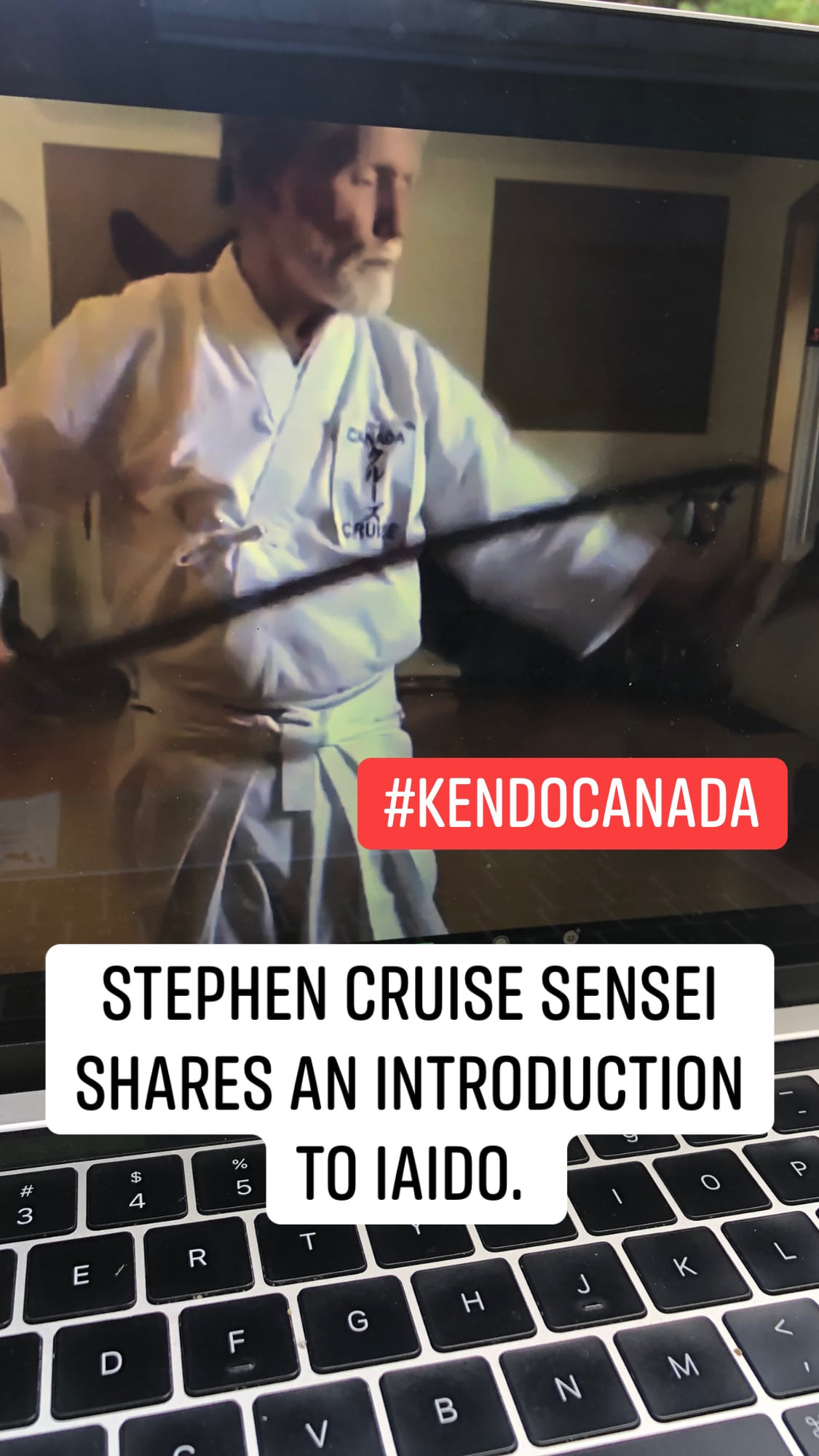 A virtual social meetup at the end of the day was hosted by David Mori, CKF Director. The social meetup was well-attended with over 40 participants enjoying a chance to chat with fellow kenshi from all across Canada and the world.
Day 2 began with a Conditioning session with Matthew Raymond Sensei, Kendo 7 Dan Kyoshi; then an Introduction to Jodo with Kim Taylor Sensei, Jodo 6 Dan; Suburi Together with Kenji Toida, Kendo 7 Dan Kyoshi; 31 Principles I Live By with Dean Ara Sensei, Kendo 7 Dan Kyoshi; and finally the Keynote presentation by Daiki Kiwada Sensei, Kendo 7 Dan Kyoshi.
 Kiwada Sensei, All Japan Champion and two-time World Kendo Champion with Team Japan presented a riveting talk on metacognition— a framework for analyzing your own kendo, your opponent, and finally the shimpan and spectators. Kiwada Sensei stayed on to answer several questions from the attendees and provided his perspective on many topics.
[et_pb_image_n10s _builder_version="4.4.8″][/et_pb_image_n10s]
The day ended with a final virtual meetup hosted by CKF Director, Makiko Ara. Participants from all over the world enjoyed spirited conversations in breakout rooms. Attendees were sad to leave as we wrapped up the event.
The CKF is honoured to host this first-ever national kendo seminar and thank the 11 presenters who dedicated their time and shared their vast knowledge to provide insightful lessons for our members across Canada. Over the two days, we received 1,735 hours of collective knowledge through 12 hours of instruction. A tremendous treasure for our federation.
Through this initiative, the CKF was able to raise $9,945 in membership fees for 2020; and an additional $5,860 was raised in donations and $2000 through Dean Ara Sensei's donation drive for his presentation deck. These funds will help the CKF tremendously with its on-going expenses and lack of revenue from grading and events this year. 
Thank you to the following CKF members who made a donation and/or contributed to the donation drive.
Platinum Donors 

($500+)

Mark Noda
Dean Ara

Gold Donors 

($200+)

David Mori
Richard Mathews
Ray Murao
James Thompson
Ryo Yasumura
Bryan Asa
Man-San Ma
Susan Zau
Bruce Campbell

Silver Donors 

($100+)

Motoko Couturier
Jin Wan Lee
Minako Gardner
Jean-Pierre Angers
Stephen Quinlan
Sang Hoon Lee
David Johnson
Hiro Okusa
Shigetaka Kamata
Summerlin Walker
Juneko Kurahashi
Julio Kenji Toida
Patrick Suen
Christian D'Orangeville
John Chu
Etobicoke Olympium Kendo & Iaido Club
Cambridge Kendo Club
Bronze Donors ($50+)
Adam Gianna
Woratat Meetorharn
Suk Hyun Jung
June Yuki Hayashi
John Maisonneuve
Meshimo Oba
Mario Rojas
Kevin Buckham
Wilson Humphries
Contributors (under $50)
Renee Desnoyer, Tomoko Amgwerd, Nina Inaoka Lee, Akane D'Orangeville, Yukiko Saito, Jean-Michael Brisson, Michael Sparling, Jan Anthony Mendoza, Alexander Vasolla, Robin Ling, Calvin Lu, Martin Melendez Chacon, Amy Li, Anton Malek, Aaron Spreng, Edward Chart, Jonathan Page, Kristen Chong, Simon Conlin, and International Attendees.
Thank you to the CKF Directors for organizing the seminar, David Mori, Makiko Ara, and Hyun-June Choi.
References:
Event Page: https://bit.ly/2Nf9nef
Schedule of Events: https://bit.ly/3hbL5i7