The Rock Kendo Club can be found in St. John's, Newfoundland and is the only kendo or iaido dojo in the province. Reestablished in 2012, the Rock Kendo Club is run by Wilson Humphries (Kendo 1 kyu) and is sponsored by Shigeo Kimura Sensei (Kendo Kyoshi 7 dan) of the Toronto Kendo Club.
Their remote location has always made it difficult for dojo members to attend CKF gradings and tournaments in Montreal or Toronto, but their isolation has turned out to be a silver-lining during the COVID-19 pandemic. The "Atlantic Bubble", consisting of the four Atlantic provinces, was a restricted travel zone established by the Premiers in early July, 2020. Through these restrictions, Newfoundland and the other Atlantic provinces were successful in driving COVID-19 cases down and virtually eliminating community transmissions compared to the rest of Canada.
In a recent email communication with Wilson Humphries, we learned that The Rock Kendo Club, like many others across Canada, were initially shut down. But through commitment and creativity, Wilson has mapped a safe course back to kendo for his members and has been able to grow their membership in the process.
Wilson stated, "Oddly, our club has grown and we are performing better than ever." Despite the rest of Canada having very limited or no in-person interaction for most of 2020, the CKF is delighted to hear Wilson's success in growing Kendo and Iaido in St. John's, and pursuing his passion for the arts.
Written by Wilson Humphries, The Rock Kendo Club – January 13, 2021
Overview of the Pandemic in Newfoundland
Initially, the early stages of the COVID-19 pandemic did see Newfoundland shut down like much of the country. Though thanks to that response, the Atlantic Bubble, our geography, and sparse population, our caseload topped out around 390.
We have not seen any spikes since November when we had a jump to 30; but often weeks passed with 0 cases. Having our most populous centres being on the island was key— the only access points would be ferry or flight— so we had more control over travellers and screening.
Since the initial wave all cases have been traced to outside travel— most of which were either domestic, workers on turn-around or those returning from international travel.  Also many people have adhered very stringently to public health policies including isolation. Since the pandemic January of this year was the first month we saw a case of community transmission.
Figuring Out Kendo Without a Dojo
March to May, 2020
Kendo for us was simply paused at first, but before a month had passed, we quickly decided it was something we needed to continue in some form and we decided to try virtual club meetings on platforms like Facebook.
We planned to have talks on kendo and budo, conditioning, or just caring for equipment — jumping online, having a social where everyone just did some bogu or shinai maintenance. It was a good chance to get into things we often didn't have time for in the dojo.
I saw that Zoom was becoming a popular platform and while looking into it, saw some dojos trying out virtual conditioning classes. We even joined Alex Bennett Sensei for some time for his near-daily Zoom practices.
Shortly after, Selene Witcher senpai invited us to take part in the Hamilton Kendo Club's remote keiko, as we are something of sister dojos through Yamada Sensei and Kimura Sensei's affiliation. With how well this was working we began our own virtual open class which saw some of our Atlantic Bubble friends join in occasionally. Thus our winter months from late March until May saw some of our core kendoka training remotely up to 4 nights a week.
My kouhai Wayne also took up Iaido after I introduced him to some Iaido sensei and we have begun practicing Iai again as a club. We have formed a great relationship with Ka Muso Kai in the process.
Our core members were getting exposure to other dojos, more conditioning, and the real time instruction of sensei we would never have had access to otherwise. I took sessions whenever time allowed, joined some of the Facebook kendo groups and would just email other clubs also doing remote keiko and jump in.
Before the pandemic we would have keiko 1-2 times a week, but with access to training virtually whenever we were doubling our exposure. Another plus has been that I am in better shape for kendo than ever!  
Blue Sky Dojo
June to August, 2020
Once the weather turned nice in late May, we added an in-person session at a park with the city's approval. Thanks to the well-thought-out plan shared by the CKF and the proposed mitigation strategies, we were back in-person in the park from June to August— supplementing with Zoom sessions. With so many indoor venues closed people were venturing to the parks and outdoor spaces more so we had a lot of curious spectators most days.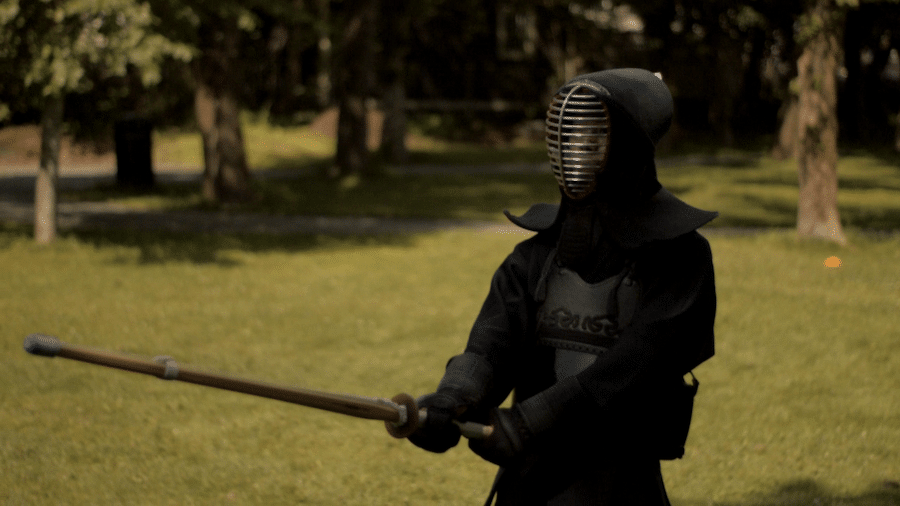 New Challenges and Opportunities with the Dojo Reopening
September to December, 2020
By September, the weather would decline, so we began organizing time with the community centres which had reopened. With the plan in place based on the COVID Protocols and Guidelines from the CKF and our own regional adjustments, we were back in person in a gym.
We initially avoided things like jigeiko, wore masks, and used face shields for us in bogu. I had a set up at home to sterilize the equipment used each session, a stock of PPE, and separate bags and equipment racks to sort clean or used items, sanitizer for the club, soji cloths — let's just say I did a lot of laundry.
The issue then turned to funding. Following the pre-pandemic training schedule we would soon run out of funds to sustain two 2 hour weekly classes since our regular membership took a dip, so we decided to run a promotion for a beginners series which we had been planning before the pandemic.
We offered a package of 11 classes as an intro to Kendo or Iaido which would run parallel with our regular club practices, and included a shinai and keikogi. Normally, we let people try for a month before choosing to join as a member and to hold off on buying any equipment until they joined. But under the circumstances I believed the gi would give a sense of commonality and coherence to the group, help them feel a part of something in a time of isolation. People could still opt out if they wished, though having their own shiani meant less need to manage communal club equipment.
Our space allows for 25 people with COVID guidelines, so I allocated 10 spots for our regular members, 10 for beginners and 5 for flexibility to keep some wiggle room. Some trials from the first promotion have not continued, but some have now signed up as members under the CKF. Our latest class saw 25 for kendo and 22 for iaido, I anticipate these numbers to drop but likely hold at 15-20. I expect several more to be signing up with CKF soon.
Reflecting on the Year
I think because the pandemic has halted many activities between work and recreation, choosing to run practices now with guidelines in place actually benefited us. More people were online and looking for activities— wanting to get out of the house, get active and re-engage — and many other competing sports were on hold. As the low COVID caseload continues this unique opportunity, met with preparation, has seen the club grow bigger than it has ever been. We continue to do soji, sterilize our equipment, and use masks and men-face shields but otherwise keiko at this point looks virtually no different than before.
That's our story to date for 2020-2021, our club came out the other end of this pandemic stronger, and I'm eagerly awaiting when we can see everyone on the mainland. We have some energetic new kendoka that I think will cement as core members and I am eager to have them attend a taikai or future grading.
If you would like to reach out to us at The Rock Kendo Club in St. John's, Newfoundland, you can reach me at [email protected]